BARNES & BARNES ARE BACK! PANCAKE DREAM IN STORES & ONLINE NOW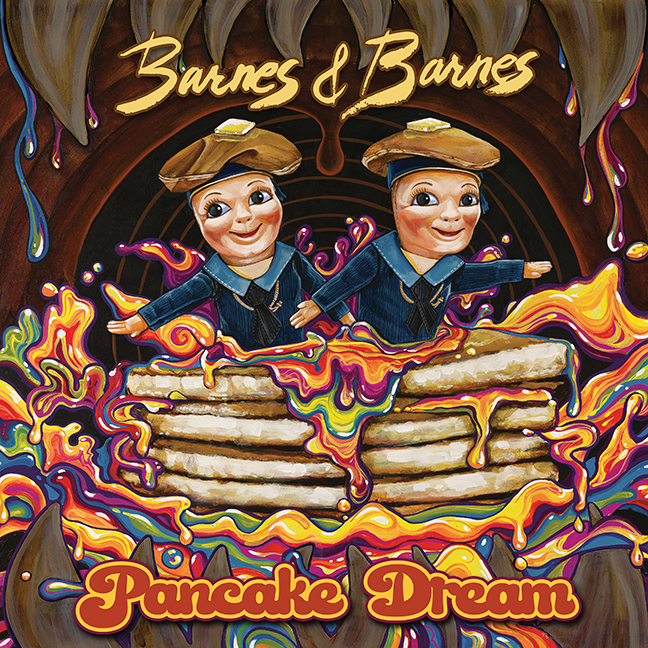 All-new material by comedy-music icons Barnes & Barnes! The demented duo behind the classic novelty hit "Fish Heads" (the #1 most requested song of all-time on the 'Dr. Demento Show'), present a new listening experience in 'Outsider Music for Insiders'.
ORDER NOW ON CD OR AUTOGRAPHED ONLINE EXCLUSIVE VARIANT VINYL!
2-disc Ltd Ed colored vinyl LP w/ 'groovy' art etching in gorgeous gatefold packaging (featuring surrealist paintings by artist Mike Bell, based on concepts and art direction by Demented Punk's John Cafiero), lyric sheet insert, and MP3 download card. Running Time: 50 minutes.
Demented Punk Online Exclusive Edition – Limited to 150 pcs worldwide – autographed by Art & Artie Barnes!
Disc 1: 'Psychedelic Pancake' colored vinyl with neon multi-color (purple, green and orange) syrup splatter
Disc 2: 'Jaws of the Panther colored vinyl with 'groovy' art etching on Side 4
Also Available on CD in Gatefold packaging with FREE POSTER included!
"This definitely ain't "Fish Heads"! Pancake Dream finds the brothers Barnes at their most hypnotic and avant-garde, creating lyrics and soundscapes that will forever plague my dreams and haunt my every waking moment. Yeah!" — "Weird Al" Yankovic
"In 1978 Barnes & Barnes released "Fish Heads," the most requested song in the 51-year history of the Dr. Demento Show. In 2021, Barnes & Barnes bring us "Pancake Dream," born of a darker, more mature comic vision, and thrilling in its musical brilliance." — Dr. Demento
Look for the Maple Syrup Splatter Vinyl Edition in stores and online worldwide everywhere else.
GET THE EXCLUSIVE "PANCAKE DREAM" BONUS DVD – NOT SOLD IN STORES
FREE W/ PURCHASE OF A "PANCAKE DREAM" BUNDLE @ DEMENTED PUNK.

The exclusive "Pancake Dream" Bonus DVD (limited to 300 copies) features over 50 minutes of content, hidden easter egg clips and a total of 13 music videos—each made by Art & Artie Barnes personally! Collectively is it a bizarre video concept album, or a mini art film…? You decide.
You won't find the "Pancake Dream" Bonus DVD available for sale, (or available at all), anywhere else! It's exclusive to our appetizing and highly limited "Pancake Dream" bundles which include the new full-length album on your choice of CD or exclusive autographed variant vinyl, the option of a set of 3 enamel pins or an embroidered Pancake Dream ball cap, plus 3/4 sleeve Raglan T-shirt featuring the incredible album cover artwork.
Order the 'Short Stack' CD Bundle or the 'Tall Stack' Autographed Vinyl Bundle or score the entire collection (while you can) in the 'Grand Slam' Ultimate Pancake Dream Bundle. All 3 include the exclusive BONUS DVD plus a nifty Demented Punk logo sticker too!
Be afraid… Pancake Dream is here!
ORDER NOW AT STORE.DEMENTEDPUNK.COM
Click below to watch a promo spot for "Pancake Dream" now.